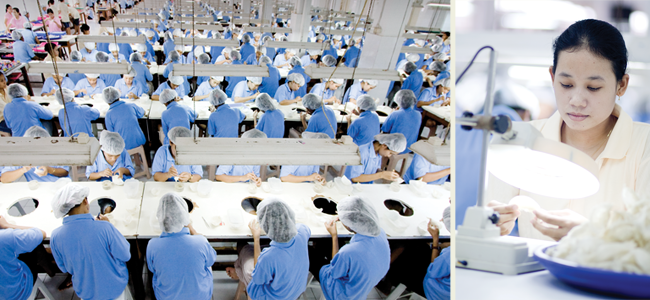 Well-Trained People and the Finest Product
訓練有素的人和最佳產品
THE SWALLOW NEST employs more than 800 experienced workers at Surabaya Headquarters. All processes ~ farming, harvesting, cleaning, processing, storing, packing and shipping ~ are operated under stringent quality control to ensure the finest product.
Since 1974, THE SWALLOW NEST has developed its own marketing strategies and quality guidelines to produce 100% natural, finest quality bird's nest. THE SWALLOW NEST's bird nest contains no additives, no chemicals and no whitener. We ensure that only the finest nests are selected and carefully transported to our retailers. The nests are then carefully cleaned of all feathers, dirt and broken eggshells at the processing headquarter. Each bird nest is naturally, thoroughly and manually processed by well-trained workers and cleansed using Reverse Osmosis water only. Once cleaned, the nests are stored and preserved in humidity and temperature regulating ovens. Customer's satisfaction is our number one concern.
印尼帝皇牌燕窩公司在泗水市的本部擁有800擁有多名有經驗的員工,每一個過程--飼養、收取、清洗、加工、貯藏、包裝及運送--都很嚴格的按品質控制來操作,為的要得到最佳產品。
從1974年起,本公司發展自己的質量準則,為的是要得到高質量的純天然燕窩。本公司的燕窩不含添加劑、化學物質和漂白劑。我們確定只選上最好的燕窩,並小心地寄到零售商。本公司加工部職員仔細地清除燕窩一切的毛、污物和碎蛋片。每一個燕窩都由受過訓練的職員用天然法處理,整個過程都用手操作,清洗的時候只使用反滲透水。清洗了燕窩保藏在可調整濕度和溫度的烘箱裡。包裝後就可準備運送到需要的地方。顧客滿意是我們注意的重點!