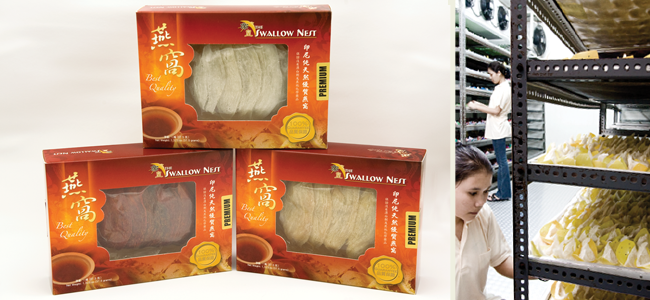 Product and Production Process
產品和生產過程
HARVESTING
SORTINGTHE SWALLOW NEST's bird nests are harvested from our own bird farms. THE SWALLOW NEST ensures our highly skilled workers working in a safe environment.

SORTING
Premium grade and quality raw bird's nest are chosen from controlled environment to eliminate heavy metals contamination.
IMPURITIES SEPARATION
Skilled and well-trained workers are employed to separate the feathers and dirt.
CLEANING & PROCESSING
By using high grade reverse osmosis water to ensure the cleanliness and to preserve the natural shape of the nest. We developed the cleaning process without any usage of toxic chemicals, bleaching agents, preservatives, colorants, or additives used in the cleaning process.
DRYING
Processed bird's nests are dried in oven using "Freeze Drying" method until the right moisture content achieved.
QUALITY CONTROL
Stringent quality controls and carried out to ensure the each and every piece of THE SWALLOW NEST's bird nest achieved the specification set.
CATEGORIZATION & GRADING
Cleaned bird's nest are categorized according to its grade.
PACKAGING
Graded bird's nest were packed into a beautiful recycled paper boxes. Each product is vacuum packed separately and does not need refrigeration before being opened.

收取
本公司的燕窩是從我們自己的養燕場裡收取的。本公司確定:我們能幹的員工是在安全的環境裡做工的。
分揀
高質量的生燕窩是在受控環境中選出來,為的是要消除重金屬的污染。
清洗
由受過訓練的、能幹的職員來清除羽毛和污物。
清潔和加工
使用高質量反滲透水來確保清潔及保存燕窩的天然形狀,在清潔過程中我們不像別人﹣﹣﹣
不使用:有毒化學品,飄白劑,防腐劑,人造色素或添加劑。
乾燥
加工了的燕窩放入烘箱,用"冷凍乾燥法" 弄乾到合適的濕度含量。
品質控制
嚴格地執行,以致讓本公司的每一件成品都合乎規定。
歸類
把弄清潔了的燕窩分門別類。
包裝
歸類了的燕窩放進美觀的可回收利用紙盒裡。每一樣成品都分別的放進真空容器裡,打開之前不用冷藏。